Merely 24 hours remain until the first Serie A game of our beloved Juventus. It is 2 am on the West Coast in the US as I'm writing this, and after a solid Friday night out, I can't sleep and am obsessively thinking about Juve. What else is new.
So here's what's giving me the biggest heartburn. Even after all the anticipation this summer with the mercato and the new stadium, I still can't let myself get excited about this year. I am scared, petrified to even think of a positive season ahead, as if I will jinx our Bianconeri by doing so. I may have always taken the "underpromise - overachieve" attitude in life, but as the days go by, I realize how many obstacles this Juventus team will still be facing this upcoming season. Yes, we have a new stadium. Yes, we only have Serie A and la Coppa Italia to worry about. Yes, we have a much deeper squad than last season and a more competitive set of players.
Yet the questions are so many. Is Juventus strong enough to do well this season after missing out on some big name players? Are the players we have mentally strong enough to be up for the challenge throughout the whole season? Is our coach the right person to train, educate, lead, and organize our squad to be consistently competitive?  Are we going to win any games after the X-mas break? Do I have any whiskey left in the cabinet?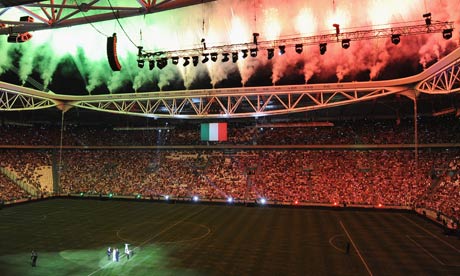 Time for a "Fuck it, let's have some fun with this" gear shift. As I was perusing your recent comments, I found a lovely gem by Rinaldo2882 suggesting a post that asks for your predictions. Bloody brilliant. Let's hit it.
Here are 11 things to try and guess for the upcoming season. I know some of you are gonna go bat-shit crazy with these predictions, to which I'm already looking forward. It's a combination of questions we recently discussed in the end-of-season podcast and the questions in the comments section:
Top 6 - Scudetto winners, CL qualifiers (2 & 3), and EL qualifiers (4,5, & 6)
Bottom 3 - Who's gonna be relegated in the end?
Capocannoniere - Top scorer of the season?
Serie A best player
Juventus best player
Juventus young player
Juventus most improved player
Best Serie A transfer of the season
Worst transfer/flop of the season
Surprise player/team of the season
Surprisingly terrible player/team of the season
And lastly, a question that cannot get more straight-forward:
This should keep us busy while John's Parma match preview goes up later today. I'm sure it will be fun to look back on these when this season ends. Someone will predict everything correctly, I know it. So what do y'all think?