Marco Di Vaio appeared in eighty-four matches and scored twenty-eight goals for Juventus in his two season stint with our club from 2002-2004. Today, you can still see the reasons why we signed the Roman striker outright in the summer of 2003 for €14 million. He's got a never-say-quit attitude, keeps the game simple, and has a very strong mental and physical on-field presence about him. Someone who lets their game do the talking is always worth rooting for, only except this Sunday.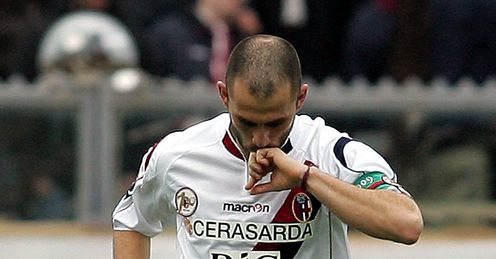 Juventus dives back into the championship after the away match in Salzburg and Del Neri wants to see the spirit, which last Sunday allowed the bianconeri to beat Lecce and which even before that play an excellent match against Inter:

"I expect continuity in results, commitment and attention. We will try to show on the field that we have built a certain mentality, even though we know we will be playing against an aggressive team. I hope, even in the future, that there might be no ups and downs but a constant rendition. Bologna is a solid team. I saw them play against Inter and I got an excellent impression. What I expect from Juventus is that we face this match with the right attitude and with the rightful respect for the opponents".

Against the rossoblu, Grygera will be missing due to injury. To substitute him, Del Neri excluded any surprises such as the moving back of Pepe: "First I must try this out and I don't think I'll do so during a match unless I do not have any other options. I must see whether he has the right attitude to play as fullback during training. We will see what alternatives there are, even in the Primavera. Camilleri, for example already played at important levels, even though he must now recover from injury".

The match of Juventus against Salzburg and even the other matches in the Europa League and Champions League showed difficulties by the Italian teams: "No match is simple but we must wait before passing definite judgments in Europe or the championship. In the cup one plays against teams with different attitudes and sometimes you are made to pay for this. You cannot always field the same formation and therefore you need the capability to take the opportunity by fielding those who played less".

In the championship, Juve seems to have found the right line-up with Marchisio on the left. The fact he has reached the yellow cards limit will not condition Del Neri: "The match against Bologna as it stands now is more important then the one against Milan. At this moment, the team needs protection and having players with certain assets we have opted for this attitude up to now".

"It depends on the type of match: Krasic and Martinez seen in Manchester did not seem bad at all…we do not lack solutions. We score a lot? This is because we have excellent players. There are teams who have an excellent base to score a good number of goals and other teams with different solutions. I am happy to have them and then perhaps more attention is paid to the goals conceded by Juventus rather then scored".

"I however, tend to see the glass as half full and am happy when we score 4 goals. I still don't know where we can get yet, though. The "works in progress" are continuing but we must try to improve and remain serene whether things go well or not". Juventus.com
It's 3 a.m. right now and I've got to get up in six hours to watch this game. So here are the official call-ups, and check the comments section below for formations, live streams, and last minute updates as per usual. I'm off to sleep. See you all in the morning.
IERI... OGGI... DOMANI... SEMPRE JUVE!!!